Shower Screens & Mirrors
Launch Gallery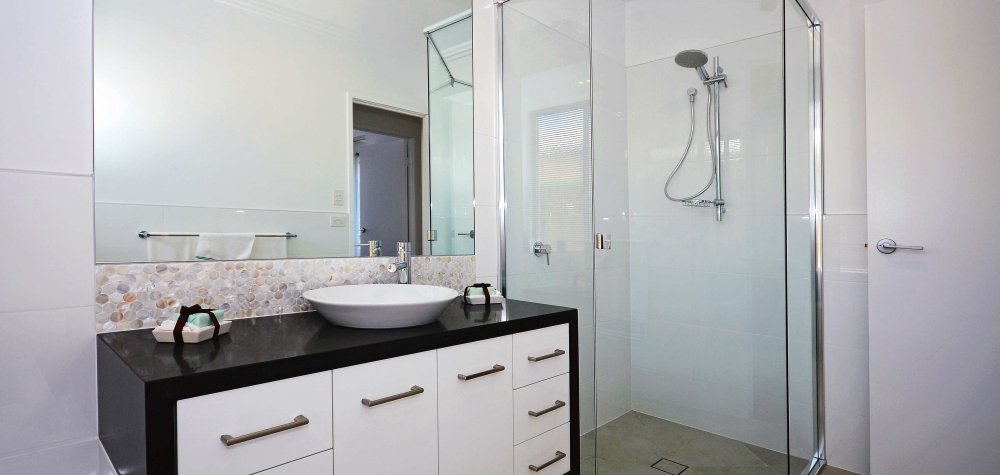 Overview
Nood Signature & Essential Shower Screens & Signature Frameless Mirrors
Our Nood Essential & Signature range of semi-frameless shower screens are custom built to your requirements & will enhance the look & finish of any bathroom, be it brand new or renovated, giving it a look of luxury & modern style at an affordable price. Our Signature mirrors are frameless & will compliment & complete the luxury finish of your bathroom. Our Nood shower screen features more glass, slimline frames & has concealed fixings for a smooth and continuous ultra-modern look.
We quote for new & replacement shower screens. For quotes on shower screens, record your sizes & call or email sales.
You will need to provide us with your sizes as follows.
Front / door size, height x width (this can be made up of a door only or a door & narrow side panel within the same frame)
Return panel size, height x width (generally the same height as the Front, unless sitting on a bath - Will need the left & right panel width if measuring a 3 sided screen)

NOTE! Our glass edge requires a flat square edge to sit on & secure to the bath. If you have a curved bath edge only, we may not be able to fit our shower screen system.
Shower screens are not available for supply only in kit form. Frameless & sliding door shower screens are also not available.
Conditions of our shower screen quotes:
All quotes are subject to a site check measure and the cost may vary depending on the accuracy of the sizes you provide us or the actual design applicable.
We will site measure to confirm the cost and design once you accept your quote and a deposit is paid.
If the design quoted cannot be installed due to physical constraints of your bathroom, you may request a refund of your deposit less %5 of the quoted price.
Essential Nood
Custom made to measure & assembled on site

Adjustable installation (using standard square cut glass) for out-of-square walls

1830mm standard height up to 2100mm maximum height (note: brochure shows 1900mm std.)

Minimal perimeter frame, junction frame & grab bar door style. Minimal frameless polished glass edgework

Concealed fixings - limited visible pop rivets or screws that are seen on traditional shower screens

Convenient self closing pivot mechanism without magnetic force

Unique splash deflector strip for superior water splash resistance, no more dangerous slippery floors

Mould reduction glazing system for easy maintenance and improved hygiene

Self draining sill for improved water resistance

Available in a range of different configurations and colours

7 year warranty on parts and labour
Signature Nood
Custom made to measure & assembled on site

Adjustable installation (using standard square cut glass) for out-of-square walls

1830mm standard height up to 2100mm maximum height (note: brochure shows 1900mm std.)

Minimal perimeter frame only, maximum frameless polished glass edgework

Concealed fixings - limited visible pop rivets or screws that are seen on traditional shower screens

Convenient self closing pivot mechanism without magnetic force

Unique splash deflector strip for superior water splash resistance, no more dangerous slippery floors

Mould reduction glazing system for easy maintenance and improved hygiene

Self draining sill for improved water resistance

Available in a range of different configurations and colours

7 year warranty on parts and labour
Signature Mirrors
Frameless design

Flat polished edges or beveled edges in various sizes

6mm or 4mm thickness & vinyl backed for your safety if breakage occurs

Fixing via screws concealed under chrome dome covers for easy removal or permanent silicone adhered (subject to site inspection)
Contact Details
Statesman Windows - Factory Direct Showroom
879 Port Road, Cheltenham SA 5014
P.O. Box 5112, Alberton SA 5014
Factory & Showroom
Open Monday to Friday - 7am to 5pm
Closed weekends & public holidays
Factory pickups Monday to Friday - 7am to 230pm
Please use our rear car park - enter via Chippenham St (between cemetery & our factory)
Port Rd parking strictly between 10am - 3pm Monday to Friday
Phone: (08) 8345 1911
Fax: (08) 8348 0344
---