Colour Range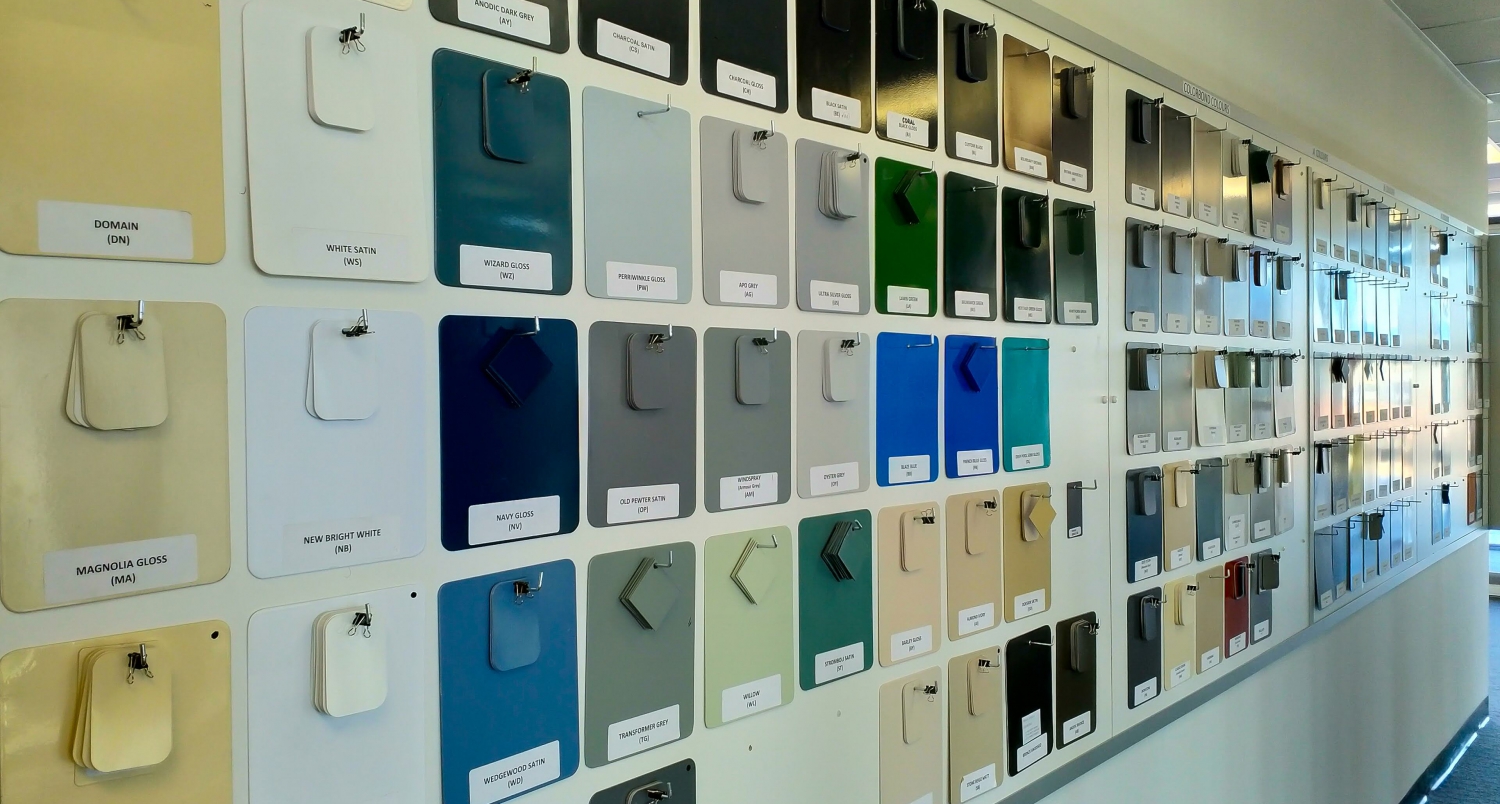 Unlike others in the industry, all of our parts are individually cut, machined and powder coated in our very own state of the art factory powder coating plant, which means superior in house quality control as well as minimal exposed or unpainted edges that can corrode when exposed to the weather.
We provide over 100 colours to choose from, as well as clear anodized a.k.a brushed silver.
Most of the colours listed below are available as "real life" samples from our showroom, for you to take home and match up to your colour scheme. It is highly recommended that you obtain a sample from our showroom if you are concerned about the accuracy of your chosen colour!
Downloadable colour charts DULUX, INTERPON C.I.D., INTERPON D100
DISCLAIMER
All colours subject to avilability from suppliers.
Please note that the colours stated on this page are sourced from various suppliers and may change at any time without notice. Therefore we cannot show them directly on our website. Please use the colour charts available below to choose your colour and check their availability with Statesman Windows prior to ordering your products. The colours as seen in brochures are only an approximation of their actual "real life" counterparts.
Statesman Windows cannot be held responsible for any mismatch of colour as the accuracy of any computer screen will differ to the real thing. Results may vary.
* Denotes limited quantity available.
Statesman's Colorbond® Range
Basalt
Bushland*
Classic Cream
Cottage Green
Cove
Deep Ocean
Dune
Evening Haze
Gully
Harvest
Headland
Ironstone
Jasper
Loft
Mangrove
Manor Red
Monument
Night Sky
Pale Eucalypt
Paperbark
Riversand*
Sandbank
Shale Grey
Surfmist
Terrain
Wallaby
Wilderness
Woodland Grey
Statesman's Common Colour Range
Almond Ivory Gloss
Anodic Bronze
Anodic Dark Grey
Apo Grey
Black Gloss
Black Satin
Blaze Blue*
Brown Hamersley
Brunswick Green
Charcoal Gloss
Charcoal Satin
Custom Black
Doeskin Satin
Domain
Hawthorne Green
Heritage Green
Magnolia Gloss
New Bright White
Notre Dame Gloss
Old Pewter Satin
Oyster Grey
Pearl White Gloss
Pottery Satin
Primrose
Rivergum Gloss
Shoji White
Stone Beige Matt
Stromboli Satin
Ultra Silver Gloss
White Birch
White Satin
Windspray
Wizard Gloss
Builders Range Colours
Monument
Paperbark
Pearl White
Primrose
Satin Black
Surfmist
Ultra Silver Gloss
White Birch
Woodland Grey
Statesman's Premium "A" Colour Range
Anodic Silver Grey
Anodic Off white
Black Onyx Gloss
Charcoal Metallic
Flame Red Gloss
Lemon Yellow Gloss
Signal Red Gloss
Ultra Black
Statesman's Premium "B" Colour Range
Anodic Natural Matt
Anotec Mid Bronze
Barrister White
Metro Silver Glo Pearl
Palladium Silver Pearl
Precious Silver Pearl
Statesman's Premium "C" Colour Range
Citi Pearl
Dark Violet
Metro Sky Pearl
Metro Storm Pearl
Mother Of Pearl
Yellow Gold
Statesman's Premium "D" Colour Range
Eternity Nickel Pearl
Orange
Precious Bronze Pearl
Precious Copper Pearl
Precious Gunmetal
Precious Nickel Pearl
Precious Pewter Pearl
Precious Steel Pearl
LINKS TO THIRD-PARTY WEBSITES DISCLAIMER
This site contains links to websites which are not maintained by Statesman Windows. Links to third party websites are provided for your convenience and informational purposes only. Third party websites are not controlled by Statesman Windows and therefore are not responsible for any content, accuracy, products or services offered or on display within or through those websites. Statesman Windows does not guarantee that these sites will not change without our knowledge. The inclusion of any links in this website does not imply Statesman Windows endorsement of the third party website or affiliation with the third party website's owners or sponsors. Statesman Windows' privacy polices does not apply to linked websites. You should consult the privacy disclosures on each third party site for further information.
DISCLAIMER
Whilst every effort has been made to ensure details are accurate, Statesman Windows can take no responsibility for any loss or damage whatsoever arising as a result of any errors contained in this website. In some cases product dimensions may vary or be changed without notice. The user of this website should not act or rely upon on any information contained herein without first obtaining appropriate professional advice from Statesman staff relating to their particular circumstances.
Statesman Windows disclaims all liability for loss or damage suffered by any party who acts or fails to act in reliance of this website.
Product Range
Contact Details
Statesman Windows - Factory Direct Showroom
879 Port Road, Cheltenham SA 5014
P.O. Box 5112, Alberton SA 5014
Factory & Showroom
Open Monday to Friday - 7am to 5pm
Closed weekends & public holidays
Factory pickups Monday to Friday - 7am to 230pm
Please use our rear car park - enter via Chippenham St (between cemetery & our factory)
Port Rd parking strictly between 10am - 3pm Monday to Friday
Phone: (08) 8345 1911
Fax: (08) 8348 0344
---